Let's explore the biggest Schengen visa denials of 2022 together! We'll take a closer look at which nationalities faced the highest visa rejections, giving you a clear picture of the challenges some countries experienced when applying for visas.
In 2022, Cape Verde had the highest recorded rate of Schengen visa application rejections, with 844 denials per 100,000 people. This resulted in a total of 5,055 Cape Verdeans' visa applications being denied out of a total of 17,572 applications.
According to recent data, this rejection rate accounted for 28.7 percent of all applications submitted, implying that roughly one in every three Cape Verdean applicants will be denied a visa in 2022. Kosovo and Suriname came in second and third in terms of visa application denials per population, respectively. Kosovo had 722 denials per 100,000 people, whereas Suriname had 548 denials per 100,000 people. This meant that almost one out of every nine people from Kosovo and one out of every five people from Suriname had their visa application denied.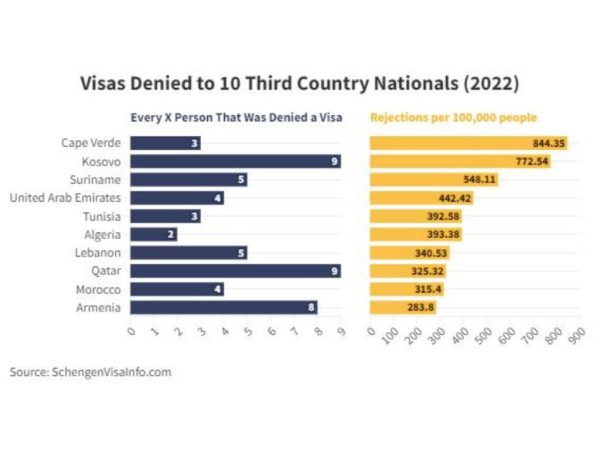 Furthermore, according to Schengen Statistics data, around 11.2 percent of Kosovo's population received visa denials, totaling 13,674 applications, while 20.1 percent of Surinamese nationals obtained similar results, totaling 3,416 applications.
Furthermore, the United Arab Emirates had 442 visa rejections per 100,000 inhabitants, with visa denials affecting 22.4 percent of the population. In total, 42,105 Emirati applications were denied in 2022.
Algerians, Tunisians, and Lebanese were the next three nationalities with the highest percentages of rejection. Algeria had 393 visa applications denied for per 100,000 people, followed by Tunisia (392 rejections) and Lebanon (340 rejections).
To be more specific, Algeria had a huge 45 percent of its population face visa denials in 2022, while Tunisia saw a 29 percent denial rate and Lebanon saw an 18.3 percent denial rate. In terms of raw figures, Tunisians received 48,909 rejections, while Lebanese applicants received 18,232 rejections. Notably, Algerian citizens received an unusually high number of negative responses, totaling 179,409 denials.
As a result, Algerians incurred the highest costs for rejected applications, spending €31.93 million. They also had the distinction of having the greatest number of denied visa applications for 2022.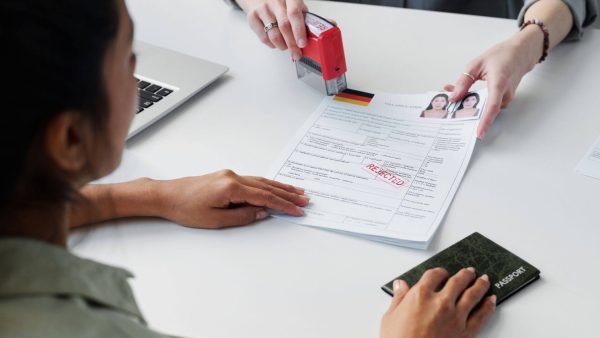 Qatar, Morocco, and Armenia round out the top ten nations with the highest rejection rates per 100,000 inhabitants, with each having between 200 and 350 rejected applications.
In particular, Qatar saw 325 refused applications per 100,000 Qatari citizens, for a total of 8,837 denied visa applications, or 11% of the total population. Similarly, Morocco had a high rejection rate, with visa denials affecting 45.7 percent of its population, totaling 119,346 denied applications or 315 rejections per 100,000 inhabitants.
Armenia ranked last on this list, with 283 visa denials per 100,000 people, equating to a population-wide visa denial rate of 12.7%. In Armenia, one out of every eight people was rejected, which is one of the highest rates among the ethnicities listed.